Lynyrd Skynyrd - Live in Atlantic City (2018) Blu-Ray 1080i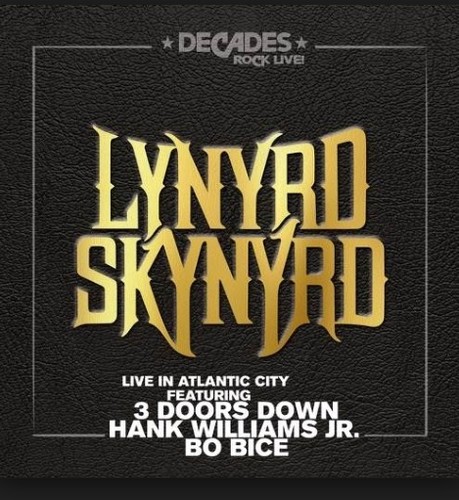 Screenshots: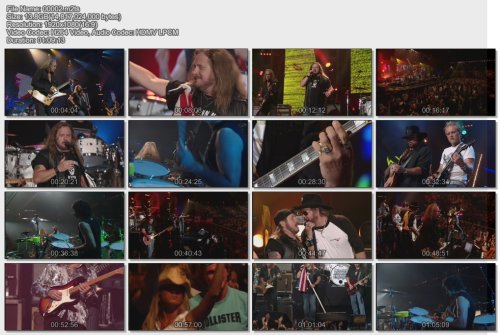 Setlist:
01. Workin' For MCA
02. Red White and Blue (Love It Or Leave)
03. Gimme Three Steps
04. The Real Thing (feat. Bo Bice)
05. Gimme Back My Bullets (feat. Bo Bice)
06. Down South Jukin' (feat. Hank Williams Jr.)
07. Born To Boogie (feat. Hank Williams Jr.)
08. That Smell (feat. 3 Doors Down)
09. Kryptonite (feat. 3 Doors Down)
10. Saturday Night Special (feat. 3 Doors Down)
11. Call Me the Breeze
13. Sweet Home Alabama
14. Free Bird

Description: Lynyrd Skynyrd are currently saying goodbye to the road, but those who'll miss the Southern rock heroes will have a souvenir to remember them when the band's Live in Atlantic City arrives on Sept. 21.
The set documents Skynyrd's June 23, 2006, concert at the Decades Rock Arena, a television studio and performance space inside the Trump Taj Mahal in Atlantic City, N.J., and broadcast as part of VH1 Classic's Decades Rock Live! series that year. The concept behind the series was to bring rock stars together with artists they've influenced.
On that night, Lynyrd Skynyrd were joined by 3 Doors Down ("That Smell," "Saturday Night Special" and the alternative band's hit "Kryptonite"), Hank Williams Jr. ("Down South Jukin'" and Williams' "Born to Boogie") and American Idol runner-up Bo Bice ("Gimme Back My Bullets" and Bice's "The Real Thing"). All of the acts also performed "Sweet Home Alabama" together near the end of the show.
Live in Atlantic City will be available as a CD/Blu-ray Digipak (with the first run being sold with a fake leather cover), two-LP vinyl set, DVD, Blu-ray and digital download. The home video version adds a bonus featurette called Lynyrd Skynyrd Confidential.
The next date on Lynyrd Skynyrd's Last of the Street Survivors Farewell Tour is tomorrow night at the Hollywood Casino Amphitheatre in Tinley Park, Ill. They have dates booked through Dec. 8 at the Mississippi Coast Coliseum in Biloxi, Miss. You can see their complete calendar here and the track listing for Live in Atlantic City below.


Info:
Source:



Genre: Blues Rock | Southern Rock
Quality: Blu-Ray | 1080i
Format: M2TS | 24.8Mbps
Length: 01:09:14 | 14.95Gb
Video: H.264 | 1920x1080i | 16:9 | 29.970fps
Audio: LPCM | 2304kbps | 48kHz | 2 channels: L R
Language: English



pass: galexandersHD
Attention:
Files are subject to expiration and can be automatically deleted if their not downloaded 30 days after the last download.